Category: Creative
05.04.2023
World Toilet Day is an ideal opportunity to raise awareness of diarrheal disease and cost-effective prevention and treatment solutions. DefeatDD, a PATH initiative and the only client that could make designing poop emojis fun, asked NJI to develop a new idea to get their solutions-focused messaging out to a broader audience. Thus, the Poo Guru was born. The playful character illustration needed to be engaging enough to spark interest in learning more about diarrheal disease prevention and treatment solutions. and deliver a consistent message to an international audience across various digital platforms.
Our team began by creating a "Base Guru" to establish a universal look, steering clear of anything western-centric, such as specific toilet styles. As we developed the initial look, we gradually incorporated brush textures that aligned with DefeatDD's existing campaign branding.
NJI Senior Designer Jessie Noble proceeded to build various facial features for the character, integrating humor to alleviate discomfort that may arise with such a tough and embarrassing topic. Although she experimented with feet, it was ultimately decided to omit limbed body parts, adding to the comical aspect of the character. Any hand-held accessories could simply be stuck into the soft body, such as the "Go Green" sign wielded by the Climate Conscious Guru.
Once the Base Guru was finalized, Jessie proceeded to build four individualized characters to represent different sanitation interventions. Each design received a unique facial expression to keep the mood light and playful, with different "hairstyles" sculpted atop each Guru for extra flair.
Finally we equipped each Guru with 2-3 poo-riffic props to flush out their identity a bit more.The different props and facial features highlight the relationship between diarrheal disease and less obvious interventions like climate change mitigation, vaccines, gender equality, and healthcare access.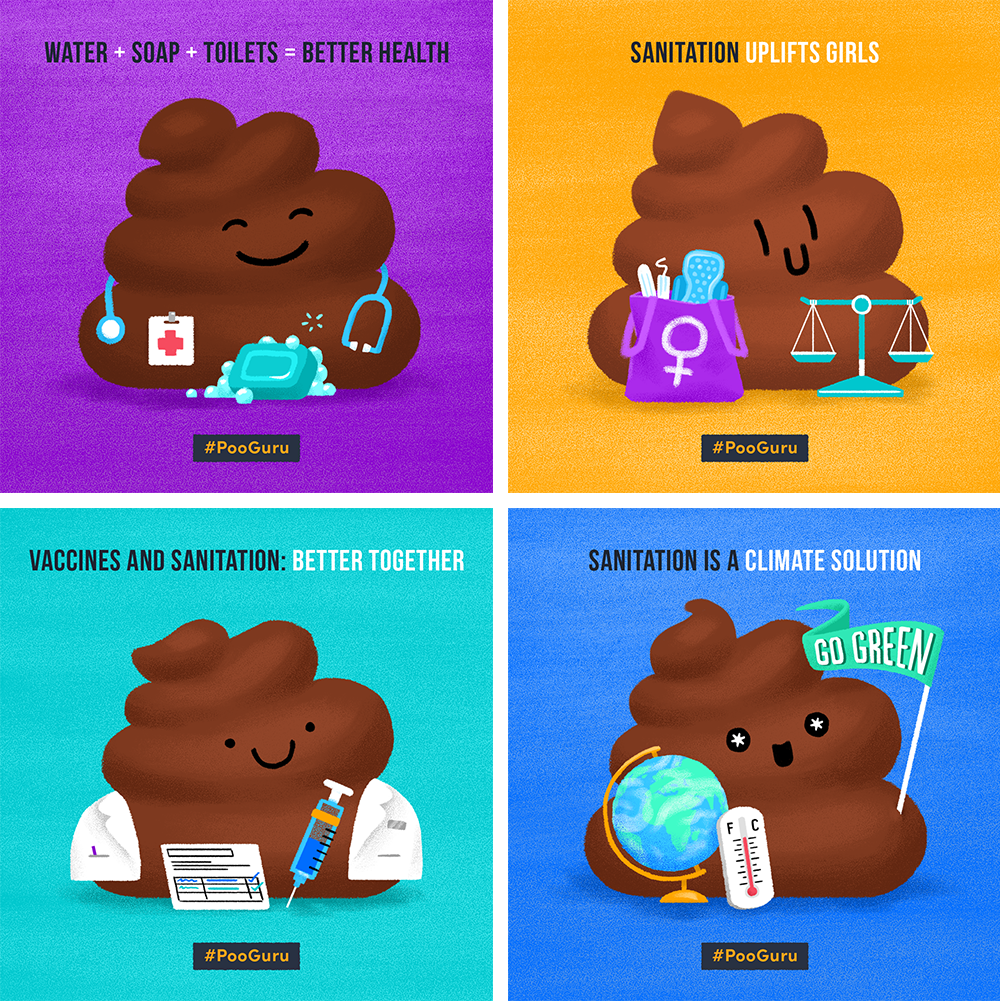 Once the graphics were approved, our video/content team transformed the still assets into a short animated video with themed music to match the playful vibe.
Through character illustration, prop design, and video animation, Poo Guru takes a unique approach to a serious subject, destigmatizing toilet talk across Facebook, Instagram, LinkedIn, and YouTube. Within the first few weeks, the campaign engaged a global audience receiving 18,000 website views, 84,000 LinkedIn and Youtube impressions, and 48 million unique views across all digital platforms. The engaging visuals amplified DefeatDD's informational resources and fostered global awareness of a solvable health crisis.
NPR's Marc Silver called out the Poo Guru on air:
"Then there's the launch this year of a new … um … character. Her name is Poo Guru. She's the brainchild of the Defeat Diarrheal Disease (DefeatDD) Initiative at PATH. The goal is for this brown animated character to educate the world about the need for many many many more toilets.
They made Poo Guru female because the U.N. and other sanitation specialists agree that women and girls suffer more from lack of toilets because of menstrual needs and vulnerability to sexual violence if defecating outside, especially in the dark.
And while Poo Guru is just an animated character bearing positive sanitation messages at this time, the hope is that she will appear at conferences — as a statue of some sort. And wearing a sticker that says: "I talk s***."
The full NPR piece can be read on the Goats & Soda, NPR's global health and development blog, here