Category: Warehouse
12.17.2022
NJI has a long history with tacos— real and virtual. For many years we celebrated and thanked our colleagues by sharing tacos and shout outs over Slack (and ate more than our fair share). As our team grows, in size and distance, we understand that elevating how colleagues and company leadership can recognize and honor individuals needs to grow as well.
Under the leadership of Nate Politi, Executive Vice President of Operations, NJI developed a more robust formal awards program to amplify the contributions of individual team members (pandas).
Three awards were established this year, tied to each NJI core value. Throughout the year, our team gives kudos each time a colleague excels and exemplifies one or more of NJI's core values. 
"Acknowledging and rewarding one another on a daily basis helps identify, over the course of the year, who our team thinks our annual award winners should be," Politi observed. 
NJI celebrated the inaugural winners and honorable mentions at a company-wide hybrid gathering. Each winner was celebrated by their direct manager to highlight their contributions and success.
NJI Core Values
Guided by our mission to challenge the status quo, these values inform our actions, our processes and our relationships.
Give a Damn.
Show up for our clients and each other—every time. Dig deep to provide our best. Create exceptional work that thrills our clients and makes us proud. Find your focus and pursue it.
Make it Personal.
Every person deserves to be respected, treated with kindness and told the truth. Care deeply. Invest in the outcomes of our work and our creativity.
Never be Satisfied.
Relentlessly pursue ambitious ideas. Take the risk to try something new. Learn from every experience. Celebrate the success today and surpass it tomorrow.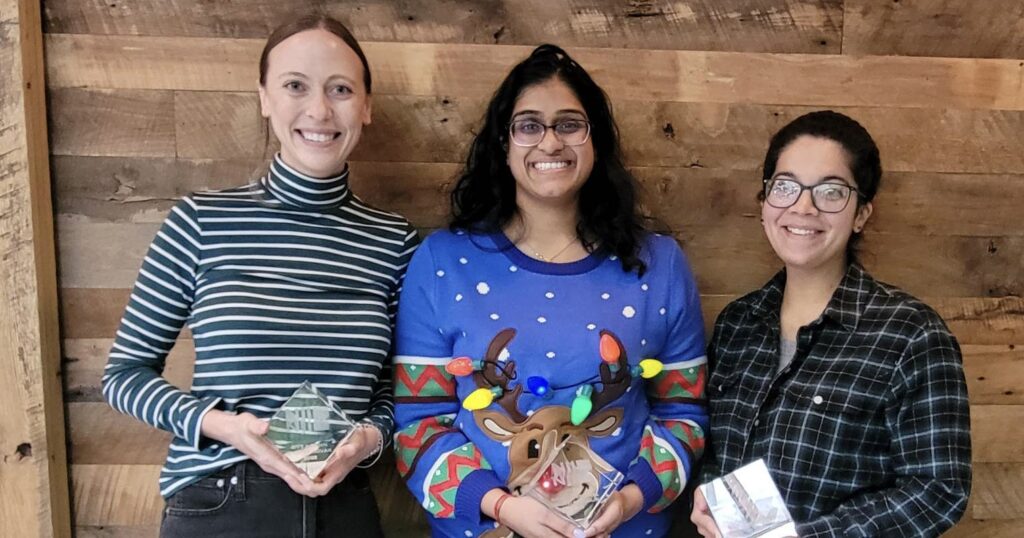 "Embracing and living out our company values every day is what makes NJI special," shares NJI President and Co-Founder Josh Shultz. "Our team always stretches what's possible and relentlessly challenges the status quo."
Give A Damn Award
Sydney Novak, Senior Manager of Agency Operations goes the extra mile, consistently challenging our established methods to improve processes and increase efficiency. Always giving a damn, Sydney creates and sifts through dozens of spreadsheets, turns data into digestible information, and challenges every assumption about how we've always done things in order to improve operations and help us grow as a team. Congratulations to Senior Graphic Designer Sarah Ficcaro for receiving this year's honorable mention.
Make it Personal Award
Pallavi Kanumuru, Project Manager brings a personal touch everywhere she goes, looking out for her fellow pandas, leading team wellness sessions, and incorporating her personal passions into her professional life in a way that benefits us all. Her calm, cool, and collected energy spreads across the office to make NJI a better place. Congratulations to Senior Account Director Kacey Schneider for receiving this year's honorable mention.
Never Be Satisfied Award
Jessie Noble, Senior Graphic Designer embodies NJI's undying curiosity and refusal to be satisfied by the status quo. She is the first to try something new, with unwavering tenacity. Her refusal to settle both in skill and in character can be seen in all of her doodles, drafts, and illustrations. Congratulations to Senior Project Manager Isabelle Gomis for receiving this year's honorable mention.
NJI intends to thoughtfully expand the awards program in the years ahead—tacos and pandas included.